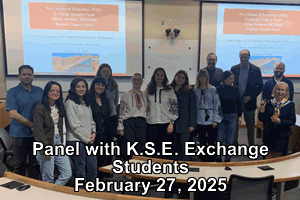 The Virtual Center for Supernetworks is an interdisciplinary center at the Isenberg School of Management that advances knowledge on large-scale networks and integrates operations research and management science, engineering, and economics. Its Director is Dr. Anna Nagurney, the Eugene M. Isenberg Chair in Integrative Studies.
Mission: The Virtual Center for Supernetworks fosters the study and application of supernetworks and serves as a resource on networks ranging from transportation and logistics, including supply chains, and the Internet, to a spectrum of economic networks.
The Applications of Supernetworks Include: decision-making, optimization, and game theory; supply chain management; critical infrastructure from transportation to electric power networks; financial networks; knowledge and social networks; energy, the environment, and sustainability; cybersecurity; Future Internet Architectures; risk management; network vulnerability, resiliency, and performance metrics; humanitarian logistics and healthcare.