The Braess Paradox
Did you know that:
When 42nd street was closed in New York City, instead of the predicted traffic gridlock, traffic flow actually improved?
or
When a new road was constructed in Stuttgart, Germany, traffic flow worsened and only improved after the road was torn up?
These paradoxical phenomena are but two real-life examples of the Braess paradox, named after Dietrich Braess who, in 1968, noted that, in a user-optimized transportation network, when a new link (road) is added, the change in equilibrium flows may result in a higher cost (travel time) to all travelers in the network, implying that users were better off without that link.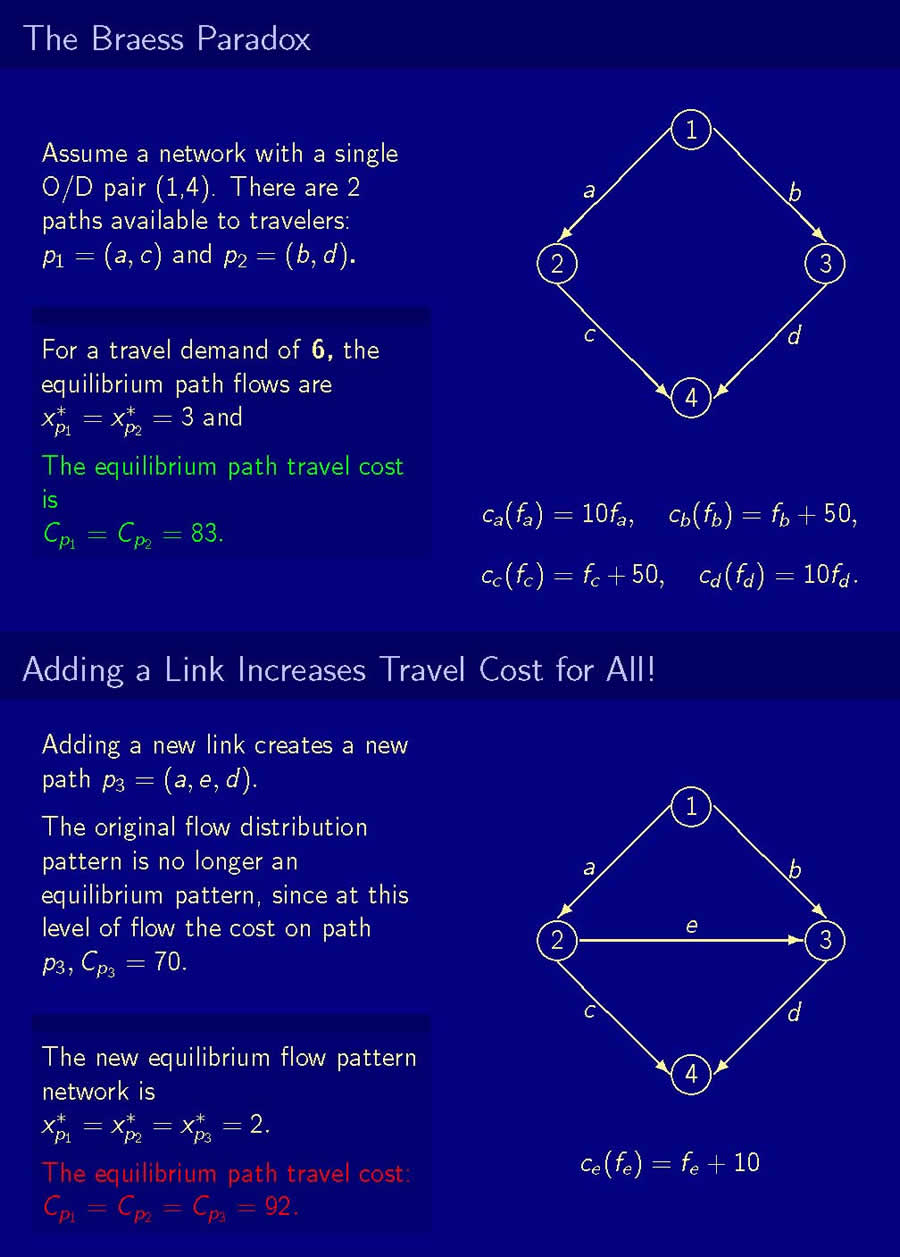 | | |
| --- | --- |
| In 1968, Professor Braess published his article in German, Über ein Paradoxon aus der Verkehrsplanung, in Unternehmensforschung (12, 258–268). A Copy of the German Article has been made available by Professor Braess. | |
| | In 2005, Professor Braess asked Professor Anna Nagurney of UMass Amherst to assist him in preparing an English translation of the article. Ms. Tina Wakolbinger, an Austrian native, then a Doctoral Student in Management Science at the Isenberg School of Management at UMass, assisted in the translation. The translated article was published in the November 2005 issue of the INFORMS journal Transportation Science. Click here for a copy of the translation. |
| The Editor-in-Chief of Transportation Science at that time, Professor Hani S. Mahmassani, asked Professor Nagurney and Professor David Boyce of Northwestern University to write a Preface to the translation to put the work into a historical context. | |


Photos from the
visit of
Professor Braess, April 5-8, 2006


Click each photo
to view a
larger version.













The Braess paradox is also relevant to other network systems in which the users operate under decentralized (selfish) decision-making behavior rather than centralized or system-optimizing behavior. These include such network systems as:
The Internet - Nagurney, Parkes, and Daniele (2007)
Electric Circuits - Nagurney and Nagurney - EPL (2016)
Electric power generation and distribution networks - Bjorndal and Jornsten - Witthaut and Timme Phys.org (2012)
Biology - Motter in New Scientist (2014)
Basketball! - Skinner (2011)
Last update: December 26, 2016