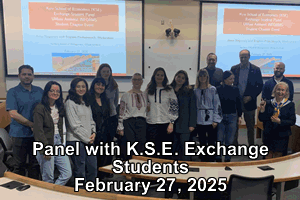 The Virtual Center for Supernetworks at the Isenberg School of Management, under the directorship of Anna Nagurney, the John F. Smith Memorial Professor, is an interdisciplinary center, and includes the Supernetworks Laboratory for Computation and Visualization.
Mission: The mission of the Virtual Center for Supernetworks is to foster the study and application of supernetworks and to serve as a resource to academia, industry, and government on networks ranging from transportation, supply chains, telecommunication, and electric power networks to economic, environmental, financial, knowledge and social networks.
The Applications of Supernetworks Include: complex networks and decision-making; critical infrastructure from transportation to electric power and the Internet; financial, economic, and social networks; energy and the environment; global supply chain management; corporate social responsibility; risk management; network vulnerability, resiliency, and performance metrics; ecological networks; humanitarian logistics and healthcare.