The CommonWealth
A UMass Alumni/Business Affairs Publication of the Isenberg School of Management
Vol. 15, No. 2/Summer 2002
Isenberg School Faculty Notes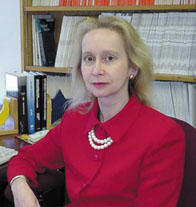 New Book by Anna Nagurney Dissects Supernetworks
John F. Smith Memorial Professor of Operations Management Anna Nagurney and SUNY/Oswego Associate Professor of Business June Dong are the authors of the recently published book, Supernetworks: Decision-Making for the Information Age (Edward Elgar Publishing). In their book, the authors lay out the theory of supernetworks—networks that exist over and above existing electronic networks—and offer an approach to making optimal decisions within them. The authors demonstrate how to build algorithms for network problem solving in a variety of areas: supply chain networks in electronic commerce, financial networks, decisions involving telecommuting versus commuting and teleshopping versus shopping, and transportation networks.
Professor Nagurney is Director of the Virtual Center for Supernetworks and is the author of Sustainable Transportation Networks (Edward Elgar) and Financial Networks: Statics and Dynamics with S. Siokos (Springer-Verlag).