The CommonWealth
A UMass Alumni/Business Affairs Publication of the Isenberg School of Management
Vol. 17, No. 1/Winter 2004
After the Blackout: Supernetwork Models to the Rescue
By Lou Wigdor
For Isenberg School professor Anna Nagurney, discovering the August 14 blackout—the biggest in US history—was more than an armchair revelation. "In Amherst, the blackout didn't hit us directly, but it frustrated the heck out of me. It was the sort of cascading event, I kept shaking my head, that never should have happened. That's because we absolutely have the tools and resources to effectively design and safeguard complex networked systems—the nation's electrical grid included." Professor Nagurney knows networks. For twenty years, she has written algorithms and designed computer simulations of immensely complex transportation, economic, financial, and telecommunications networks. In recent years, she has turned her attention to the computer modeling of supply chains, Internet commerce, and—as you may have guessed—public utility grids.

Professor Anna Nagurney and her student team.
"I don't do this work alone," emphasizes Nagurney, who is John F. Smith Memorial Professor of Operations Management. "My colleagues include former students and a growing number of international scholars. And I conduct research with a terrific group of students at the Isenberg School." Two years ago, Nagurney founded The Virtual Center for Supernetworks, which actively employs seven Isenberg School students in network research. "The term supernetworks refers to the interconnectivity of these large networks themselves," notes Nagurney. "During the blackout and afterwards, for example, the failure of the power grid affected telecommunications networks, knocking out cell phones and email servers. It paralyzed transportation networks, shutting down air and rail travel, which in turn spawned tremendous road and sidewalk congestion. In Cleveland, water distribution collapsed; nationally, the postal service experienced delays. And the blackout froze ATMs, throwing parts of the financial system into disarray.
On November 20, a joint US-Canadian task force issued a 130-page report that laid much of the blame for the blackout on a local power supplier—FirstEnergy Corp. of Akron, Ohio—and the Midwest ISO (Independent System Operator), the quasi-public entity that oversees grid reliability in the upper Midwest. The report outlined a comedy of human and machine errors that ultimately triggered a twenty-minute cascade which knocked out twenty power plants (including nine nuclear reactors), affecting 50 million people in eight states and Ontario. FirstEnergy, observed the report, had failed to trim trees around power lines, which coupled with high energy demand on a hot day, caused them to sag and short circuit. Back in First Energy's control room, a program that was supposed to have set off alarms never went off, causing the computer system and its backup system to fail. At the Midwest ISO, which oversees 35 utilities, a technician who had encountered difficulties with the energy "state" estimator, turned off the critical tool, attempted to repair it, and then went to lunch, forgetting to turn it back on. When the "state" estimator came back on in the afternoon, its readings were faulty. All the while, FirstEnergy and the ISO failed to communicate effectively with one another and with other power suppliers. When FirstEnergy did abruptly shut down, neighboring operators in New York and Ontario instantly diverted energy to the utility to correct the imbalance. To protect their own infrastructures from the surge, they in turn shut down. And so did their neighbors, and their neighbors' neighbors, like a collapsing house of cards.


Supernetworks involve the interaction of complex networks, like transportation and communication networks, financial markets, and the electricity grid.
"The blackout was largely preventable," emphasized US Energy Secretary Spencer Abraham, coauthor of the US-Canadian report. "Once the problem grew to a certain magnitude, nothing could have been done to prevent it from cascading out of control." Professor Nagurney agrees but with a difference. "The situation should have never even approached a crisis," she insists. "Without question, government and industry must correct the shortcomings outlined in the report, but the crisis could have been avoided solely by introducing a more efficient system for bringing sellers and buyers—and the supply, demand, and distribution of electricity—together." That's exactly the sort of preventive market medicine that Nagurney's models can administer.
"One of the problems of the electric power market is the opacity of information between buyers and sellers. Our models make information much more transparent in the system," observes Dmytro Matsypura, an Isenberg School Ph.D. candidate, who is researching the New England energy grid. "By incorporating precise patterns in the behavior of suppliers, transmitters, and different demand markets, our model can anticipate and target energy flows in the system. It allows buyers and sellers to find one another more efficiently." On the market's demand side, behavior of the major players can be extremely variable, notes Nagurney. "Our models must reflect the market's multiple tiers of buyers," she observes. "Demand among different industries and businesses varies seasonally and according to their own idiosyncratic markets. Municipalities and individual consumers also have specific and changing energy needs. Pricing, of course, needs to accurately reflect that complex picture. Delays in pricing information and energy distribution are especially problematic in the power industry: You can't, after all, inventory electricity.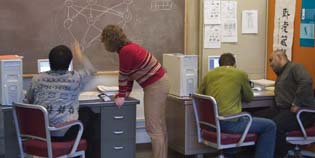 Anna Nagurney's students in the Supernetwork lab.
"Because our models strive for market transparency and efficiency, they are good news for today's relatively deregulated electrical power markets," Nagurney continues. (Wholesale power markets have been deregulated since 1992, allowing for the free market purchase and sale of bulk electricity throughout much of the country.) "But there are other aspects of those markets that our models can capture, like the behavior of the ISOs and the national energy overseer, FERC (The Federal Energy Regulatory Commission). In truth, network modeling can take a systems oriented perspective where a central entity controls the network flows, as well as a user-optimized one, where users, in pursuit of self-interest, select their own optimal routes in the system. And we can model hybrid networks that incorporate elements of both."
America's power delivery system is certainly one such hybrid. Since deregulation, there has been a contentious balance of power between independent utilities, grid operators (i.e., the ISOs), and FERC. The utilities run the power plants, control transmission lines, and deliver juice to customers. The ISOs ensure reliability of their regional grids and FERC monitors the national picture. "Our experience with the blackout underscores the need for uniform national standards for infrastructure, operating procedures, and monitoring of the system. There's too much at stake nationally and regionally to condone weak ISO and national layers in the system. For the public good, our models must account for the forest as well as the trees, " insists Nagurney. "A balanced approach that incorporates those concerns can only strengthen the arena where market forces will benefit the system, including investors and consumers.*
"Fortunately, America's largest blackout did not impinge on national security," Nagurney continues. "It's crucial that we move decisively to shore up weaknesses in the nation's electrical grid system. Next time, we might not be so lucky." Nagurney and her students are pursuing other research with national security implications. In November, the Isenberg School professor received a one-year $198,904 grant from the National Science Foundation, through funds provided by the National Security Agency. Nagurney, her students, and SUNY at Oswego professor June Dong '94 Ph.D. are creating network models that optimize the flow of information for rapid, dynamic decision making in national intelligence agencies and other knowledge-intensive organizations. "Our research into knowledge supernetworks will also benefit major news organizations, high-technology firms, and global financial institutions," notes Nagurney, who is editor of the recently published collection, Innovations in Financial and Economic Networks, published by Edward Elgar Publishing of Northampton, Mass., and Cheltenham, England.
During the past year, Professor Nagurney and her center have been lightening rods for research support. In May, she received a two-year $400,000 grant commitment from NSF to study knowledge supernetworks and to develop models that examine the management of dynamic business processes under risk and uncertainty (The $198,904 award noted above was the first installment of that award.) That came on the heels of another prestigious honor: funding from the Rockefeller Foundation's Bellagio Program for a multidisciplinary research project with two colleagues next March at the Rockefeller Foundation's Study and Conference Center in Bellagio, Italy.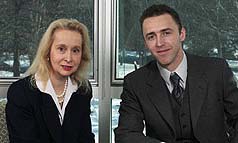 Professor Nagurney and Ph.D. candidate Dmytro Matsypura.
The project will develop a theory of complex networks under risk and construct algorithms that will improve decision making in global markets involving production quantities, shipments, environmental emissions, and financial flows. "We are determined to shed light on supply chain networks and international financial networks that will help governments and their societies improve their economic competitiveness," explains Nagurney. Earlier in the year Nagurney's center itself received new funding of its own—a $25,000 Industrial Faculty Fellowship from the AT&T Foundation for the second year in a row. "Last year's initial AT&T fellowship was mostly about the foundation's expectations," notes Nagurney. "This year's is an endorsement of our work. They've seen it, approved, and want us to continue. In my view, our models help make an increasingly complex world more manageable, more productive. When I see a systems breakdown on the scale of the August 14th blackout, my concern isn't whether we have the tools to prevent a recurrence, it's how we get policy makers to view our work as a useful resource that can make a difference."
-------------------------
*A "comprehensive" energy bill passed by the House and tabled by the Senate in November would have imposed mandatory operating electrical grid standards to be drafted by an industry group, the North American Electric Reliability Council. The council would have the authority to audit the operations of power companies and the ISOs. That arrangement was not favored by FERC, which had sought to strengthen its own authority and the authority of the ISOs over the system's operating standards.